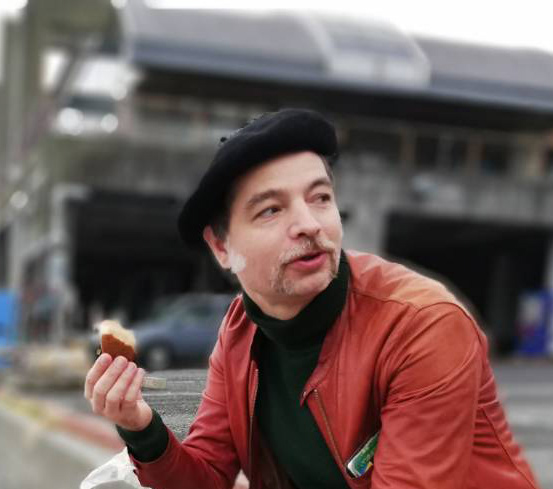 Profile
Botchy-Botchy
Born and raised in rural France  and moved to Tokyo in 2004. After spending 19 years in more or less interesting companies, I decided to quit my job to become a  freelance illustrator in August 2018.  My first orders were for a french restaurant in Tokyo (Tiles and artworks) , CD jackets for an independent Japanese label, and illustrations for corporate marketing material. In december 2019, my first picture book was published in Japan by gendaishokan. It illustrates the lyrics of a famous japanese song from 1988 called 'Aozora' interpreted by The Blue Hearts. After 1 week, due to the success of the book, a 2nd edition was made. I will visit the Bologna Children Book fair this year as my book will be presented there.
I sell prints as well as my original works. Don't hesitate to contact me:).
I won several prizes from Nippon Designer Gakuin as well as from the Nippon Foundation in October 2018 and 2019 for posters I designed. In September 2019, one of my work was selected for the JAGDA International Student Poster Award and was exhibited at Tokyo National Art Center. 3 of my works were selected for the Roppongi Flag Designers award and will be displayed in Tokyo streets in march 2020.
My interests : collecting vinyl and DJing (from mandingue to post-punk via hi-life, Japanese 60s groove and Bollywood soundtracks),  subculture, black humour, antique books that smell like fungi,  Tokyo bars and urchins.
In terms of 20th century artists I admire the most: Moebius , Caza, Yooko Tadanori, Tanaami Keiichi, Francis Bacon, Fela Kuti, Chiaki Naomi, Oum Kalsoum, Oyang Fei Fei, Mulatu Astatke, Farid El Atrache, John Coltrane and many many more!
Awards
October 2018: Nippon designers school 2nd prize
October 2018: Umipos 
March 2019: Spiral Independent Creators Festival
September 2019: Nippon designers school 2nd prize
October 2019: Umipos
December 2019: Roppongi designers Flag Contest (3 artworks)
Exhibitions 
March 2017: Ban Kuruwase (Tokyo)
June 2018: Ban Kuruwase (Tokyo)
November 2018: Li-Po (Tokyo)
February 2019: -Ban Kuruwase (Tokyo), group exhibition
-3331 Chiyoda Arts (Tokyo), group exhibition
March2019:-Atelier 485 (Shibamata), 
-Palette Club (Tokyo), group exhibition.
May 2019: 20th Spiral Independent Creators Festival (SICF), group.
June 2019: Art snack Bankuruwase (Tokyo)
Thank you for reading that far.